Gas Patio Heaters
To: Patio Heaters
To: Wood Burning Heaters
Gas Patio Heaters
Are less worrisome when it comes to "starting the fire". Just a "click" of a button and "poof" your fire is going.
There are some good qualities about the gas patio heater..**It is smokeless**It is easy to clean**It has no sparks
There are also some natural gas fire pits that are built into the middle of tables.
They are not only good for warmth, but they make a good focal point in your garden and on some models you are able to cook on them. The Decision... Now that you've made the decision to buy a gas patio heater, there are a few other decisions you will need to make.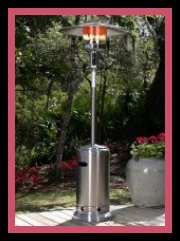 One You will want to choose a finish that goes along with your other garden items.
The 0utdoor gas patio heater comes in stainless steel, chrome, bronze, and a variety of colors.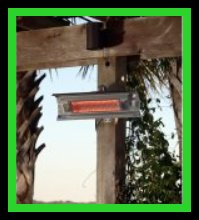 Two Sizes range from 36" for the tabletop models to more than 100" for the standup models.
Cost varies too. From $100 for the tabletop to around $200-$500 for the freestanding models.
Heat Source
How do patio heaters work?
***They use infrared heat. Natural gas warms the people and objects not the air. The burners are usually at the top with a piece that looks a lot like a mushroom. This is the reflector. The burners produce the heat, but the reflector directs the heat to the right places.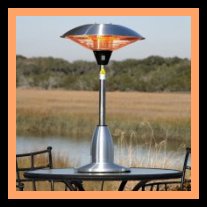 Do you want to use natural gas or propane?If you're not sure, think about these questions.
How do you hook up a gas patio heater?
***It all has to do with whether you're willing to permanentlysecure or mount your heater or if you want to be able to move it around.
For natural gas, you can use a steel gas line if you're going to secure it permanently, but you will want to use a flexible hose if you want to move it around. Of course you won't be able to move it too much.
With propane, the bottle is usually housed in the bottom of your patio heater, thus making it very portable.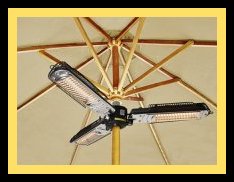 You can also use the same line that you use to hook up your gas grill, no matter which option you choose.
***yes, more than one heater will make you feel extra toasty. Most heaters will heat an area between 8'and 15'.
If you get more than one unit, place them so that the ranges overlap. This works better than placing them in odd spots.
***Two factors that can affect your outdoor heating is…The weather of course and whether your area is partially closed in.
As with any type of fire, whether it be from an outdoor heater, fire pit, or fireplace they immediately attract people, to gather around them.
Like I said earlier, make sure there is plenty of seating available.
Patio heaters are a marvelous addition to your garden. They make your pool, patio, or spa area much more enjoyable. It's kind of like the "Energizer Bunny" – the fun just keeps on going!
Just remember always be smart when you're dealing with an outdoor heater.
Always read your owners manual and "BE SAFE"!!
To: Home... From: Gas Patio Heaters