"...Patio Heaters..."
To: Wood Burning Heaters
To: Gas Patio Heaters
Patio Heaters are a "GREAT" asset to your garden area.
Remember long ago when the only time you had a fire outside was when you were camping, burning leaves or burning trash?
Well, times have changed. Outdoor heaters have become as common as the outdoor grill.
They are very popular. It doesn't matter if it's a hole in the ground or a magnificient outdoor living area. People love fire.
The warmth draws people to it. The beautiful colors, the sparks, the comfort, just the contentment that it brings is wonderful.
They make those late fall get-togethers and those early morning coffee moments so much more enjoyable.
Patio heaters will allow you to enjoy your outdoor area all year long, and if you put as much time into yours as I do mine, it will be well worth it.
Oh yea, and make sure you have plenty of seating, because before you know it, the neighbors will be over to join in on all the fun.
Patio Heaters not only add warmth to your garden, but it makes the atmosphere inviting, thus increasing the amount of time you spend outside.
"Style"
Once you have decided that an outdoor heater is just what the doctor ordered, then
You shouldn't have a problem finding a style that you like, because there are so many to choose from.
Unless you decide to permanently secure or mount your heater, most are easily moved from place to place and the prices are quite reasonable too.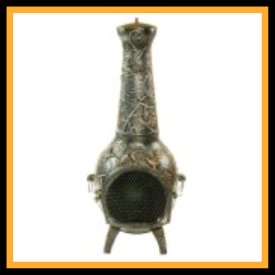 A very well liked style is the Mexican fireplace. It adds a lot
of charm to your garden. They are called "Chimineas". You can find these in clay, iron, and aluminum.
Another popular style is the "fire pit".
This is the kind I have. A fire pit can be as simple as a hole in the ground or large bowl. Sometimes the bowl variety even has a chimney.
Mine is old. It has a wire screen that is the circumference of the pit and about 2 feet high with a large cover on the top. The cover and the wire is removable. It is similar to the picture on the left.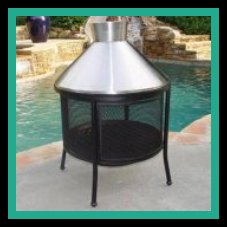 Then there is the Patio Heater. I know you have seen them in businesses, mainly restaurants with outside eating areas, but now they are being used in home gardens, on patios and decks, or just about anywhere heat is needed.
A patio heater is a terrific item to add to your outdoor area and they make great gifts too!
There are three main types of outdoor patio heaters.
**One is the gas heater, **Two is the propane heater, and **Three is the wood buning heater.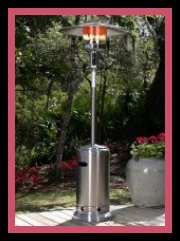 All of them have their good qualities and it is just a matter of preference in which one you would like to have.
"Safety"
Safety should be your first priority. Always remember to be safe.
When choosing the location of your outdoor patio heater think about the traffic flow and the seating arrangements.
Never put anything to close to the fire source.
Never place your heater close to where children play or where a lot of activity goes on.
Nothing ruins a fun party more than an accident.
"SO, BE CAREFULL"...

Now when you sit outside and think to yourself, "My garden just needs something extra" or maybe, you would like to stay outside and continue gazing at the stars, but it's just to chilly to be comfortable.
Remember, adding patio heater will create a more inviting space, but you also add an element that will keep on giving.
I know that you will be happy that you made the decision to purchase a patio heater.


To: Home... From: Patio Heaters